Impossible, over my dead body, not in a million years - the usual knee-jerk objections to any suggestion of getting too close to a competitive operation. Such comments are usually spouted by Marketing colleagues who are frankly living on agency lunches and in the past. These colleagues are the same people who moan and groan continually about Logistic and Distribution services without ever bothering to understand either discipline.
The CEE is a relative desert in terms of top drawer Distributors so you might think about thinking the unthinkable!
Myth 1. "Mr. Competitor will find out about our new product before the launch date."
If you think your advertising agency can keep its mouth shut then you are extremely naïve. Whispers about a new launch or promotion will abound long before Mrs. Popescu sees it on the shelf. (Tip. If you want advance warning of new launches go and look at office windows and see how many new sku's are there for all to see.) Secondly, in most CEE markets and certainly in Romania all new products have to be added to price lists well in advance of the on-shelf date. Once data is on a price list it is in the public domain and readily available to your competitors.
Myth 2. "Mr. Competitor will know all my volumes and stock levels."
Firstly, you are assuming that Distributors cannot be at least as professional as your own company. Why? The good Distributors ARE confidential and take great care to maintain sensible segregation of duties. All major players monitor sales and stocks in the market either in-house or via one of the usual agencies. If you are worried about going stock-out on a certain sku then you had better make sure your upstream supply chain gets its own act together via S&OP.
Myth 3. "The Distributor will favour the competitor in selling situations".
Ok, we are getting to the point. You do not ha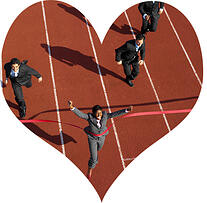 ve to use the same sales force. A dedicated sales force will ensure your products receive the desired focus. The Distributor skills and competencies in organising the network will be shared but at the sharp end there is dedication. If you do share the same sales force then the key point is how you reward them. Make this competitive and you will get equal exposure and push.
Good and reliable Distributors are in short supply in CEE so think carefully before rejecting the possibility of aligning with a competitor.
Your key competitive edge should not be Logistics or the Distributor but it should be your Brands at the point of sale. If the Marketing guys can leave their never-ending lunches they should be able to do something about that!