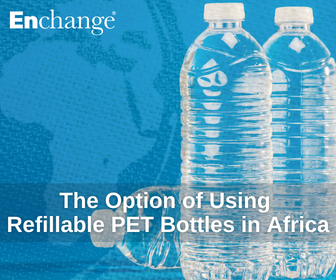 Responsible Beverage makers are always looking for sustainable packaging solutions that are not only cost-effective but environmentally friendly. Soft Drink and Beer Companies normally use 3 types of packaging i.e., cans, plastic bottles, and glass bottles. These package options can be single-use, reusable, or recyclable. The plastic bottles are known as polyethylene terephthalate bottles commonly known as #PET Bottles are a favourite choice for many Suppliers because they are easy to handle and cost less. However, not all Pet Bottles are created equal.
In recent times Refillable polyethylene terephthalate (#REFPET) is gaining popularity with Beverage Manufacturers, especially in some European economies as governments in those countries mandate Manufacturers to introduce Deposit Return Schemes to promote a greener agenda. In Africa, REFPET is relatively new, with the only notable REFPET operation being that by the Coca-Cola company in South Africa. So why should Beverage companies in Africa consider REFPET as a viable packaging solution?
Here are 5 reasons why REFPET makes sense:
DURABLE MATERIAL

- REFPET bottles use the lowest amount of new material used per litre compared to alternatives, and they are stronger.

SUSTAINABLE SOLUTION

- Refillable PET bottles are the most sustainable beverage solution. They can be refilled up to 25 cycles and are available with up to 30% recycled PET (#Rpet). The reusability and returnability of these bottles make them environmentally friendly.
VERSATILITY - Refillable PET Bottles range can store and keep a wide range of beverages over time, thanks to their chemical composition. This versatility means there is less plastic contaminating the environment, which has a cost attached to it.
CARBON NEUTRAL SOLUTION - Refillable PET Bottles typically have 30% recycled content and reduce carbon emissions by 80% (Based on a 1L REFPET Bottle). This is much higher than glass bottles and ordinary PET Bottles. One REFPET Bottle is equal to 15 PET Bottles – let that sink in.
COST-EFFECTIVE - The reusability and returnability of REFPET make it a cost-effective solution. When the Bottle has reached the end-of-its life cycle it can still be recycled. When combined with a Deposit Return Scheme, the benefits are more compelling.
What to do next?
Are you looking for a Returnable Packaging solution for your African market? What does that look like for you? Will it be #REFPET or #RGB? In my #AFRICANRTMLEADERSHIP Series on LinkedIn, I unpack everything RTM, RGB, REFPET and more.
Follow me for more inspirational content. Please contact me directly for help with any RTM issue in your market.