The new normal brought about by the COVID-19 pandemic has shed light on so many issues regarding corporate Route to Market (RtM) strategies. What many companies now face is the truth that has been hidden for years - we cannot race with unstable or unfit horses. Furthermore, the take up of mobile money and distance ordering through e-commerce platforms and mobile devices have created many opportunities to tap into accross the markets of Africa.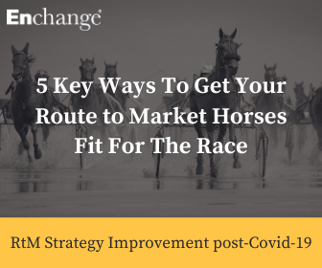 Now is the time to make sure

that your RtM

horses are in the best

possible

of shape for the race.

I would recommend to FMCG leaders and decison makers to consider the the following steps.
Performance

.

Draw a demarcation line between performance evaluation and distributors

'

assessment. In the recent past many

high

performing distributors have failed to sustain

performance

.

In doing so

they have seriously affected their suppliers and internal teams.

For example, a

company which

delivers

volume may not be profitable.

There are many recent examples of this

in Africa and beyond. Distributors with weak management processes are at risk! Distributors with weak trade receivable

s

are

vulnerable and are

likely to

'

quit the game

'

at the first magnitude 1 earthquake.

Thus d

istributors which are financially weak cannot

support

a company

with

growth expectations.

Adapt to home delivery, e-

commerce

,

go digital

. Distribution channels evolve and winners are the early adaptors. People are less willing to be public

in

crowded places. They prefer ordering from online platforms or simply order by a phone call.

Training

.

Move from one-off or

single

shot training and embark on a capability building journey. It does not really pay to gather people in a room for

a

few days and

'

over

-

feed

'

them with chapters and chapters. A real plan

should

be

developed

and put

in place for a longer period

, supported by

assessment and advice.

Such a

journey is more effective in

positively

changing Ways of Working (WoW).

Me

asuring Success

.

Stay focus

sed

, put in place a Balanced

S

corecard that captures key initiatives and KPIs

that

focus on value drivers.

For example,

the top 5 initiatives of each key

Team P

layer have to be identified and

have the appropriate

KPI

s put in place

. This

drives

'synergies'

within

the organization

in

efforts

to deliver

shared goals and objectives.

Review RtM Success

.

Make periodic

RtM

Business Reviews (BR)

. These sho

uld be

more than just a meeting to review results.

They

should

focus

on the profitability and highlight the key findings from previous periods

.

The BRs should include

a proactive approach to

field activities, budgeted activities

,

implementation schedule

s

, competition, market trend

s, etc..

Each

BR

should

agree

the activities

and actions in advance of the

next

BR

.
About this Author
Aristide F. Kouame is senior Route to Market (RtM) and Commercial Consultant at Enchange who is passionate about RtM and business development. He has over 10 years' commercial and RtM experience in West Africa in the FMCG, Brewing & Beverages and Telecom sectors. He held several senior commercial, sales and distribution development roles including in Côte d`Ivoire, Ghana, Benin, Burkina Faso and Togo with Diageo and Friesland Campina.