With little overall growth expected in a number of African markets in 2022, the battle ground will likely be for market share. With this in mind, how do we ensure that we are best placed to win these battles?
Given that most sales in African markets are indirect via distributors, the answer lies in ensuring that our Key Distributor Partners (KDs) are equipped to provide that vital difference for us in the market.
So how do we achieve this and how long does it take?
My Enchange colleagues have written much about how to improve distributor performance.
I would like to focus on how to maximise such performance quickly. We call this recipe Indirect Fast Tracking or IFT for short.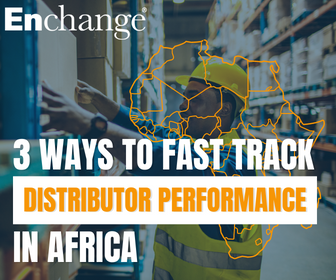 RtM Assessment. The place to start is an assessment of your current route to market, primarily to identify where a quick impact can be achieved. On this occasion we are not necessarily challenging our RtM Strategy but rather looking for how performance can be improved within the reasonable boundaries of our current strategy. The assessment should be done within a month.

Check your Key RtM Assumptions. It is worth having a sense check of your current RtM Strategy assumptions. For example, satisfy yourselves that you understand the overall market, are targeting the correct channels, have the right product mix and packaging to compete, understand your competitive strengths (and weaknesses), know what the competition is doing and, critically, understand what is expected of your distributors.
Understand your Distributors. I repeat, you need to understand what you are expecting of your Key Distributors. And it is not just sales. For example, what product mix is being promoted in the current sales cycle? How are outlets segmented? What key outlets are being targeted? How often are they visited? What sales management processes are in place to deliver agreed sales targets? How are the vital Sales Reps calls being managed? I suggest that you need to have an intimate knowledge of what you expect from your distributors. If you don't, how can you expect them to perform to your satisfaction?
Focus. Now is the time to focus. I include in focus the optimum product portfolio that will deliver impact – think of Category A SKUs – and Key Distributors. Remember that we are trying to make a quick impact on sales. Identify those KDs that are likely to be able to deliver speedy success. In addition to scale and reach, look at four areas for each – sales management, logistics capability, finance and back office and partnership. An ideal KD will have a significant business, with good reach (generally good coverage potential), have decent sales management capability, reasonable warehousing and delivery vehicles, be well financed, have a good back office and …. be a good partner.

Distributor Focus. The assessment step will have identified those Key Distributors that account for the majority of your sales. For those selected KDs do the following:

Joint Business Plans (JBP) should be agreed for each selected KD. The JPB should have a time horizon of no more than 12 months and include only those actions that can realistically have a quick impact. The JBP does not need to be a lengthy document and should aim to be completed within a week. Concentrate on substance and actions that are measurable. Review the JBP every quarter.
Key Performance Indicators (KPIs). Identify the KPIs that will be a reliable measure of success. Sales volume is important but not at any price – an understanding of your Total Cost to Serve (TCTS) is important here to reduce the risk of giving away too much and unwittingly trading at a loss. KPIs to look at include distribution coverage, stock levels at the point of sale, order-to-call ratios. KPIs should be few in number – double figures are too many for this fast track approach.
Incentives. Your KDs will need to be encouraged. Everyone does. Think about back margin incentives to encourage the actions and behaviour that you are looking for.

Strategy into Action. Now that you have agreed the framework with each selected Key Distributor, it is time for action.

Joint Action Plans. As the name suggests, these are the agreed actions that your Key Distributors (and you as the producer) have committed to deliver in order to support of the JBP. The JAP should be updated monthly.
Short Interval Scheduling. To ensure that the JAP is more than just a piece of paper and to keep everyone honest, so to speak, we now need to ensure that agreed actions actually happen. One technique is Short Interval Scheduling (SIS). This involves field visits to each selected KD at least once a week and trade visits to outlets. In effect it takes the agreed plans in the latest monthly JAP and ensures that delivery actually happens. It also allows early identification of any road blocks that will hinder execution of the JAP.
Effective Behaviours. The above will help align behaviours of Producers and Key Distributors over a short period of time. The SIS in particular can be a very effective tool in this regard; once a KD knows that they will receive a visit regularly, agreed actions will more likely happen … especially if there is a financial incentive to do so – see above incentives in the JBP.
I have focussed on our experience from route to market projects in dozens of countries in Africa and the Middle East. Upon reflection, the above also applies in varying degrees to route to market execution in other parts of the world.
Any comments would be most welcomed.
If you need any help on any route to market or supply chain issues, please reach out to me directly.