I have been talking to a number of commercial and supply chain executives during the last few weeks and something of a theme has emerged.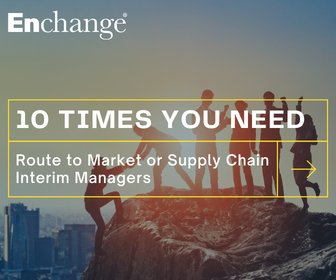 The theme is the need for highly skilled route to market / commercial and supply chain resource, available at short notice, with the flexibility to switch off the resource at will ….and at fee rates comparable to existing resource.
"So nothing unreasonable there", I thought.
What we actually discussed was interim management and how the placing of a specific skilled resource can have a dramatic impact on an organisation. We went on to discuss the typical roles that such executives are currently demanding.
With this and our recent experience with clients, I offer the follow 10 route to market and supply chain interim management roles:
Resource gap Bridging a gap prior to a full time appointment being made. This was mentioned by everyone – "we need a planning manager …. urgently"
Backfill. To temporarily backfill a position because the incumbent manager is about to be seconded to a project. "We have a large project that has started (SAP projects were mentioned a number of times) & we need an interim Head of Supply Chain".
Project Managing a specific project that would normally be carried out by company personnel but resource is a constraint. This is a common need and mentioned frequently.
Temporary or part-time operational assignments the need for which will end, do not justify a full time employee or are designed to coach and train a new manager.
Holding the fort in a situation where company strategy is not decided and operational roles are unclear.
Crisis Managing a crisis when a unexpected event occurs, e.g. dismissal, death or unexpected departure.
Post-acquisition or merger management prior to establishment of the full management team.
Pre-sale management of a company or business unit in preparation for a sale.
Urgent change management of strategy, cost structure, organisation, process etc., when an external threat is recognised. e.g. sudden loss of market share, unsustainable debt position, hostile take-over bid, etc.
Turnaround management or 'company doctor' when a permanent position is inappropriate or the role may be perceived as too risky to attract a permanent candidate.
My discussions were with a relatively small number of people. I would welcome any further comments.