As a company designed to improve the Route to Market (RtM) strategy of our consumer goods clients, at Enchange, we are often asked questions by the RtM community about improving or sharing RtM knowledge. For example, how can organisations best help RtM managers to increase their RtM Knowledge, or gain knowledge from other RtM colleagues, or share their own RtM experiences and successes, or generally get their RtM teams performing better?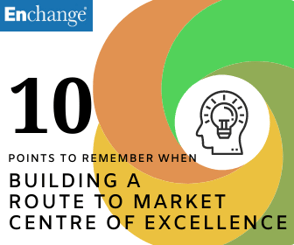 In our experience, setting up an effective RtM Centre of Excellence (CoE) can be the solution.
A RtM CoE is more of a RtM philosophy, that anything specifically physical. A RtM CoE is a set of rules or guidelines that we can follow to help us to improve, build on and share our RtM knowledge, at any level in the organisation. For example, it can be set up and managed at a city or sales area level, where a group of sales, distribution, and /or trade marketing reps share and build on each other's knowledge, and it could be coordinated/managed by their line manager. The CoE could also be set up at a country or cluster level where a Senior VP, Head of RtM or Sales coordinates the RtM CoE for multiple countries and teams.
In both examples above, the goals are the same – i.e. to train, share knowledge and drive sales forward through improved route to market performance.
To help your thinking, here are ten priorities for building a Route to Market (RtM) Centre of Excellence (CoE):
The goal and no. 1 priority for the RtM CoE is to provide help and guidance to RtM teams, not to provide an extra layer of bureaucracy. This must be at the front of our minds as we think about the CoE.
Provide a RtM framework or template to give guidance and structure on how to set up and review the RtM; we use the 20 Steps to Route to Market Excellence.
Ensure there is an experienced resource to manage the CoE, who has real end market, frontline customer experience.
Set up a model for testing and quickly sharing success and best practice (we call this Upgrading - develop, pilot, analyse, discard or roll out).
Bring people together (virtual & physical) to share learnings, drive continuous improvement and build relationships.
CoE team members must visit the end markets, the sales territories, the RtM team, and most importantly the customers. For the CoE, staying close to the frontline is essential.
Monitor competitor activity and share with the RtM team, including activities to copy, and strategies to defend against.
Share market intelligence across the geography, everything from consumer trends and latest RtM Digital innovations, to what the key accounts are doing in different geographies.
Offer cross market/geography development opportunities for RtM people, to test and build their skills in different learning environments.
Facilitate above market/geography negotiations and management of both service providers (e.g. research agencies, Digital RtM providers, Point of Sale providers, consultants, etc.) and key accounts or distributors, where appropriate.
For many of us, it is annual plan time. Now is the time to be considering this approach as you prepare to take the necessary actions to drive Route to Market performance. Next year's winners in your market will be doing this now. If you need help or flexible resources, please reach out to me directly.