I recently started a blog series on indirect distribution by sharing our step-by-step approach to drive and develop distributor performance. We call this the Distributor Partner (DP) Development Programme.
I have previously shared the first three modules:
Module 1 - Producer RtM Strategy – Giving you the ability to translate Producer RtM goals into DP capabilities/actions.
Module 2 – Model Distributor - Facilitating your definition of Industry & Geo-specific Best in Class distribution.
Module 3 – Distributor Assessment - How to identify and rank the best DPs.
At this point we clearly understand what our RtM approach is and what our ideal DP looks like. We have also assessed our current and potential future DPs against our vision of the ideal DP. Now we need to build a joint approach for sales and profit growth. This is Module 4 – Distributor Partnership.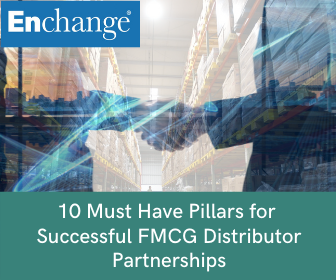 How do we Build Distributor Partnerships?
Building Distributor Partnerships is all about open and honest collaboration to clearly set out the joint approach to building sales and profit growth for the long term. In this module, we lay the foundation upon which the DP relationship will be built and successfully managed from.
The Ten Pillars of Distributor Partnerships:
Transparent Trading Terms & Conditions (TTC). This is the overall contract which governs the relationship between the FMCG Co. and the DP. Make it very clear what a DP needs to do to earn their front and back margin. The TTC must take account of all the Distributor Partnership Pillars. They must be signed by both parties.

Consistency.

Y

ou need consistency across the entire DP relationship including for example, consistency in management of the relationship, strategy, communications, interactions, overall message, TTC reviews, expectations, etc.
Jointly Agreed Targets. There should be no surprises here. It should be clear from the TTC, and any agreed amendments or schedules, what the DP must achieve, including, for example, volume, brand distribution, listings, Point of Sale Material (POSM) placement, merchandising, promotions, etc. You may have classified a DP as either Basic or Intermediate as per Module 3 – Distributor Assessments,

now you must set out their clear targets to move to the next level.

Joint Investment. This is a business partnership, with two parties looking to grow their business and make money. It should be very clear what the investment is and that both parties are investing to win. It could be as simple as the DP investing in some new vans and the FMCG Co. contributing some back margin to fund it. But it could be a much more elaborate joint investment plan. Regardless, it all needs to be agreed in advance to understand what gets done, by whom, when, and who pays.
Defined Areas. It must be crystal clear which areas a DP covers. Are they nationwide, city specific, or a certain zone? Do they cover all channels, including for example, Modern Trade (MT), Traditional Trade (TT), eCommerce, etc. Do they service Key Accounts? If so, which Key Accounts? The last thing any FMCG Co. needs is for their own DPs to compete with their own products.
Relationship Management. It should be very clear from the outset how and when the agreement will be reviewed and monitored. For example, a monthly business review with operational management from both sides, and a quarterly senior 'top to top' meeting. Things like field visits, POSM, merchandising, display and planogram audits should all be covered.
Data Management. In the Digital era, organisations live and breathe data. It needs to be clear from day one who will collect and manage all data (e.g., sell out, epos, promotional, pricing, inventory, forecasting, etc.), who will own it, analyse it, in what system, what frequency, etc.
Service Level Agreements (SLA's). Clearly define the level of service that the FMCG company expects from the DP. This may sound obvious, but it is essential to detail who manages the RtM basics like order capture, delivery, training, payment terms, outlet segmentation, merchandising, pricing, promotions, new product introductions, recalls, product returns, POSM, etc. It is better to overtly state what each party does, rather than to incorrectly assume.
Customer Service Guidelines. The DP is the FMCG Co. representative in the marketplace. The FMCG Co. needs to agree acceptable customer service levels onto next level customers, e.g., retail. These Guidelines could cover call frequency, minimum order quantity, payment terms, merchandising, promotions, etc.
Openness & Flexibility. The relationship must be built on a two-way platform of trust and openness. With recognition that plans can change in a dynamic marketplace, and each party must be flexible to new ways of working to capitalise and improve together.
All the above principals need to be adapted and individualised for each DP. This will vary depending on whether the DP is new and being onboarded, or whether there is a current relationship with the DP, who has just been assessed and requires development.
Once we have completed the Distributor Partnership Module of the DP Development Programme, there will be a solid foundation in place to build upon. In my next blog I will do so with Module 5 – Planning & Logistics.
What should you do now?