In the greater scheme of life many questions remain unanswered but my hobby horse question is why people and notably politicians and usually male at that, cannot get on with other nationalities and/or/religions. We are not here for long yet some people spend their lives causing or being affected by conflict.
On a much less serious level my top 4 so far unanswerable questions are:
Why would anyone want to eat cucumber/castraveti?
Why do people wear headgear in hard top cars when they are not in F1 racing?
Why do obviously bald men think the Bobby Charlton careful combing technique turns you into a babe magnet?
Do you know? Well, this might not appear to be a seamless link but please bear with me for the 4th unanswered question.
Athletic Madrid is a famous football team playing in the Spanish League and located in the Basque region. Uniquely, they only recruit players who were born or trained in football in the greater Basque region of Spain and Southern France. On the face of it this provides quite a challenge as the number of potential recruits of the highest quality is severely restricted compared to other teams with a potentially global choice?
Nevertheless, Athletico has and continues to be extremely successful despite not being willing to bring in players from other countries and continents. Competing teams can sign who they can afford or bring in players on loan to fill a specific need or to strengthen the team as the various competitions draw to a cup winning closure.
Teams acknowledge that sometimes it is right to shake things up in the dressing room particularly when results are not going well. Buy somebody who plays in a different style or who has battled relegation previously or simply someone with a fresh approach that will add some sparkle. Athletico really is unique in terms of operating within the restriction of the Basque heritage and such an approach does not work in FMCG supply chains.
So, onto question 4.
Mr Einstein said "Insanity: doing the same thing over and over again and expecting different results."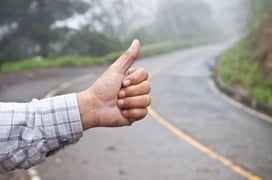 Why do some FMCG companies insist on maintaining a strict internal recruitment and promotion policy even when the results are heading south and have been for a number of years? Surely something is screaming out for change and improvement yet the same old ideas and practises continue and guess what, with the same results! I find this within supply chains in many companies in many countries.
These are people – male and female – who are clearly hitch-hiking against the traffic
You are not constrained by the Athletico approach so freshen up your supply chain at least, by bringing in some fresh talent to shake up the status quo and generate the spark that can create sustainable change in the business. This is not to suggest the existing employees are not good enough but now and again you need a change of direction and even leadership in order to achieve the corporate objectives and beat the competition (don't get me started on Sepp Blatter!). Recruit someone "on loan" or on an interim contract and you might start winning trophies again.
(The cucumber question is doubly worrying when people say they actually enjoy the stuff!)
Image courtesy of taoty at freedigitalphotos.net